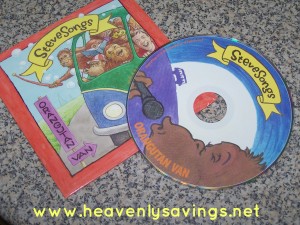 Orangutan Van Review!
My thoughts on SteveSongs Orangutan Van cd are complete and utterly silly all the way around but the best part is that these songs also include uplifting and educational lyrics!
We were driving in sunny California and everyone knows how the traffic can be in the city, well we popped in the Orangutan Van cd and as the kids were swinging their feet and bobbing their heads, my sister and I couldn't help but bust out some moves and giggle. Talk about helping us getting our minds off traffic! You can't help but listen along because there are some hilarious lyrics!
This cd is sure to engage and entertain ALL ages, I am not kidding. If you want to buy a kids cd that will entertain everyone in the car, this is the cd to buy! I fell in love with this cd and am planning on buying the other cd's that SteveSongs has to offer! Talk about an extremely unique gift for someone as well! This would be sure to put smiles on faces!
If you know Steve from the PBS KIDS then you have a small glimpse into what you are going to have with this cd. Energetic, enthusiastic and educational are my three E's I would use describe SteveSongs – This music just motivates you to get up and dance!
SteveSongs Orangutan Van includes 13 exciting songs (this review is brought to you by the letter E because apparently my brain is thinking of all E words today) including some of our favorite ones which would be "Grumpy Boy" which talks about cheering up a grumpy boy and then a verse to cheer up a grumpy girl because we all know our little ones can be a grump…ok even including a grumpy dad! Another hilarious song is "A" for Silly – they go through the alphabet in a very unique way which you have never heard before which makes everyone listening to the song and laughing about how silly it is!
This entertaining cd is a must in my opinion! Check out www.stevesongs.com for more!
~Tammy~
** I was sent a copy of this product for the purpose of this review. However, my own opinion was used and not influenced in any way.