Transform Your Living Room With Various Color & Lighting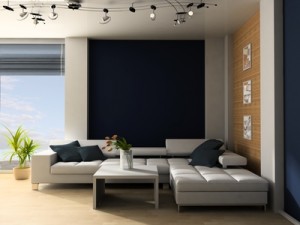 Living rooms feel old to. Furniture wears out, paint fades and what were once trendy now dates you. But an entire room renovation can often be pricey. Fear not; hope is on the way. Take these effortless and affordable steps to transform your living room:
Choose Light and Bright
Your choice of living room color will significantly affect how you, your family and guests feel in the space. A living room should have a cozy, welcoming feel to it. This usually isn't accomplished by dark colors, as popular as they are in today's world of decor. Darkness encloses a space, making it appear smaller. Choose a lighter, more appealing color scheme, as this will enrich your living room. Yellow, tan, emerald and peach can help make your living room look bright and airy. If you want to include dark colors, use them as accents for candles, rugs and wall decorations.
Paint a Sample Size
Before finalizing your choice of paint color, get samples of three colors you're considering and paint a small portion of a wall with each one. Make sure to paint a wall that gets plenty of natural sunlight. Often the fluorescent lighting at hardware stores and artificial light at home distorts the true tones of paint. Always look at it in natural sunlight before buying some (sometimes pricey) buckets.
Rearrange the Furniture
Consider ways to rearrange your living room to make it a contemporary feel. If you don't need to change any furniture, use slip covers or reupholster the fabric to change the look. If you want to move the focal point away from the TV or fireplace, paint an accent wall and attach artwork or a large mirror. Angle furniture and lighting to highlight this new focus.
Address the Windows
Consider a change. Replace old shades with sheer grommet curtains or consider removing all window treatments and leaving the windows bare. Use crown molding and painted paneling to draw attention to the windows. Consider decorative film or colored glass for an added, fascinating detail that doesn't sacrifice privacy.
Look Up
The ceiling is one of the most overlooked aspects of any room. Inevitably, the white coloring will fade. A fresh coat of paint can do wonders to liven it up. If you're feeling adventurous, buy or create a stencil and paint a pattern on your ceiling. Even if, you don't use flashing or contrasting colors a subtle detail on the ceiling can add depth and beauty.
Update the Ceiling Fan
For an inexpensive quick fix, change out the blades on your fan if they've become tired, dusty or rusty. Or, if it's in the budget, get a new ceiling fan. Add a light kit with a dimmer to renovate the area and set the tone for all occasions.
Strategic Lamp Placement
Lighting is the key to a cozy living room when natural sunlight no longer suffices. Purchase $5 table and floor lamps at flea markets or thrift shops and upcycle them with paint to fit into your decor. Place them on side tables next to furniture or in the room's corners to allow for a cozy feel after dark.
Amanda Peters
A kindergarten teacher and grant writer for children's art programs, Amanda loves sharing her craft ideas and tips on how to be more sustainable.