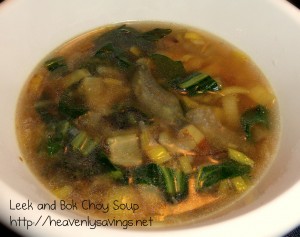 Leek and Bok Choy Soup
I have been on a soup kick recently. I am not sure why as the weather is warming up and hot soup is not usually something I want during a hot day.
The other day as I was looking through my kitchen I noticed my Leek's and Boy Choy that I had on hand. I got to thinking that these would probably make an amazing soup…boy was I right! The flavors of the Leek's mixed with the Bok Choy was super light and tasty. I love that this is a great soup to eat by it's self or to go with a sandwich. Plus it is low in calories which is a huge bonus for me!
Ingredients:
2 Leeks
1 T olive oil
6 cups water 4 beef bulion cubes 1 bok choy
3 basil leaves  
Directions:
1. Add diced leeks and olive oil to fry pan. Saute about 5-10 minutes on medium heat stirring often so they do not burn. Just long enough for the leeks to soften.
2. In stock pot heat water and bullion cubes to boil, stir often. Once water is boiling turn heat down to medium. Add sauteed leeks, bok choy and basil. Cover and simmer 15 minutes on low/med heat.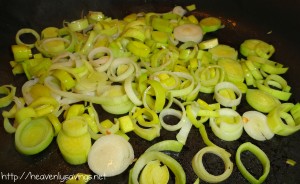 Don't forget to click the 'Magic' button below for Nutritional Information and Weight Watcher's points for this recipe!