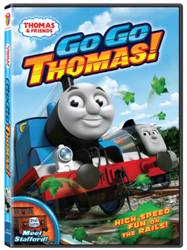 My Thoughts on Go Go Thomas!
Thomas & Friends is at it again and this time they meet a new friend named Stafford! I am currently watching this with a child that I tend during the day. He is 4 years old and I must say his eyes are glued to the t.v. so far! He loves Thomas and anything to do with trains.
In this Go Go Thomas DVD Thomas and his friends are getting ready for some special visitors who will be coming to the island. It is the perfect time of year for these special visitors as the flowers are in bloom and the grass is green.
Watch as Thomas takes the special visitors around the island….and then watch as he does not return with as many riders as he left with. What happened to the special visitors? You will have to watch and find out!
From Press Release:
PROGRAM DESCRIPTION
It's high speed fun on the rails as Thomas and his engine friends race around Sodor!  Meet new engine Stafford and your favorite engine friends in five high spirited adventures plus four interactive bonus features, in Thomas & Friends®: Go Go Thomas arriving on DVD, Digital Download and Video On Demand March 5, 2013 from Lionsgate and HIT Entertainment.
The award-winning Thomas & Friends teaches timeless life lessons of discovery, friendship and cooperation, inviting children to enter a world of imagination through the tracks of a train and the words of a story. 
SYNOPSIS
Thomas and his friends are charged up and ready to Go, Go! Thomas shows Gordon that being quick is as useful as being strong, while Flynn the fire engine learns to put his pride aside and race to the rescue. Thomas causes some trouble on the tracks trying to be a model engine for a new photographer, while Spencer's on the move, ignoring warnings about electric engine Stafford's battery. Thomas pumps his pistons to Misty Island to help fix Ol' Wheezy. Will the number one blue engine be on track and on time? Ready, Set… Go, Go Thomas!