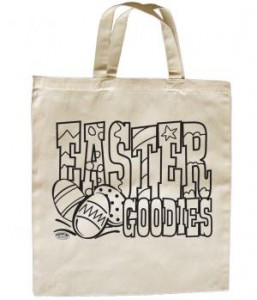 My Thoughts on Color Time Crafts
Kids love to color. Usually I run around my house saying "only on the paper" and, "We only color on paper, remember?" This was one of the first times ever that I was able to say, "Color your shirt and have fun!"
My daughter is currently about to finish up her first year in Girl Scouts. She is a Brownie this year and has enjoyed every minute of it! When I seen that Color Time Crafts had Girl Scout Tee's, tote bags and pillow cases I was blown away. This was the perfect item to get my crafty daughter!
My daughter was able to review a Color Time Crafts Brownie T-shirt. It came with three permanet fabric markers that would add some life to her own creation. She literally colored on this shirt for hours. She strategically planned what color she was going to put where and what designs she was going to add to this fun shirt. I loved watching her creative juices flow and now she has a custom creation she can wear time and time again.
Color Time Crafts has lots of great items that your kids are sure to love. From Hidden Treasure Backpacks to Girl Power Bandana's! Plus you can purchase so many fun fabric marker colors that wont wash out! Your kids will love wearing their own creations!
If you are on the lookout for a great craft for you kiddo's, something to do during a slumber party or Camping trip then I suggest you check out Color Time Crafts! They have lots of great items to choose from!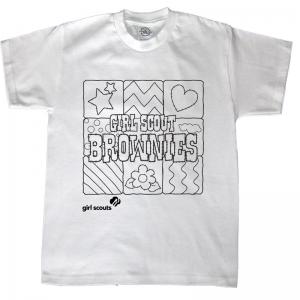 How would you like to win a Color Time Crafts Recycle Tote Bag and 3 Fabric Markers of your very own? I am happy to say that one lucky Heavenly Savings reader will be able to do just that! Giveaway is open to US only!
From Press Release:
To tell you a little about my company we are located in Merrick, NY. We give our customers the chance to color and decorate their own t-shirts, pillowcases, backpacks, tote bags, bandanas, and more for parties, slumber parties, and scout meetings with our permanent fabric markers. Since 1990 over 2 million children and adults throughout the country have enjoyed Colortime Crafts And Markers ™. With a broad line of products, along with our special Colortime™ quick-drying permanent fabric markers, we have provided our customers the opportunity to take home a very special keepsake. Also, we are a licensed vendor of the Girl Scouts of America.
The coupon: 15% off online retail purchases.
Use coupon code 15for30C when you check out at colortime.com. Coupon must be entered at the time of purchase. Offer not valid on sale items and may not be combined with other offers or discounts.
Offer expires on May 28, 2013.
The Free Shipping:  Free ground shipping on orders over $60. In the continental US. Only for retail, web-based orders, placed on our website. Not to be combined with any other offers and discounts.
To get the free shipping, use code FRSH11W.
The giveaway: Colortime is doing a giveaway via our Facebook page (www.facebook.com/colortimecrafts). It is a weekly fan giveaway. Here are the instructions:
Each week Colortime Crafts and Markers will randomly draw 3 lucky FANS who will receive a special craft package, which includes a Colortime color-your-own "Recycle Tote Bag" and three special permanent Colortime FABRIC MARKERS. All you have to do to be eligible is to "like" and become a fan of Colortime Crafts and Markers on Facebook.
The winners' Facebook name will be posted each Monday on the Colortime Crafts and Markers Facebook page. We will send you a message on Facebook informing you that you won. Look for it, and if your name is a winner, you can also send us an email message to info@colortime.com with your full name and address and in either case we will ship your prize within 2 weeks.
Rules:
1) You must be a fan of Colortime Crafts and Markers (www.facebook.com/colortimecrafts) Facebook page.
2) Once you win a prize, you are not eligible for additional prizes for this promotion for 12 months after the prize has been awarded.
3) Prizes not claimed within 2 weeks will be forfeited.