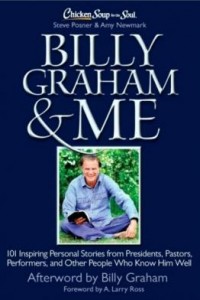 My Thoughts on Billy Graham & Me
Chicken Soup for the Soul recently released Billy Graham & Me. This book contains 101 Personal Stories from the people who know him best.
I know this might sound crazy to some people but I have never heard of Billy Graham before. I honestly did not know who he was or anything him. This book was an eye opener into his life and I really enjoyed reading the fun stories every one wrote about him.
On the Back
Billy Graham, world-renowned author, preacher and evangelist has delivered the Gospel message to more people face-to-face than anyone in history and has ministered on every continent.
For the first time, world leaders come together with Billy Graham's inner circle to talk about Billy Graham and his influence on them. These 101 revealing stories, from people we all know and the people who know him best, introduce us to the man behind the public figure, who not surprisingly is just as humble and honest behind the scenes as he is in the pulpit.
Chicken Soup for the Soul has assembled a stunningly comprehensive list of contributors, with personal stories from every living U.S. president and world leaders in government, religion, evangelism, entertainment, sports, and media, as well as stories from Billy Graham's family and friends.
These stories remind us of Billy Graham's courage and personal conviction when he refused to speak to segregated audiences in the 1950's, when he ventured into Russia and other countries to spread the Word, when he encouraged other preachers in their careers, counseled them not to be judgmental, and modeled love.
This collection of personal tributes and fond recollection, complete with more than 40 historic photos of Billy Graham with family and friends, is an important piece of the legacy of the world's most beloved preacher and "God's Ambassador." This book is a must-read for anyone looking to understand the complete Billy Graham.