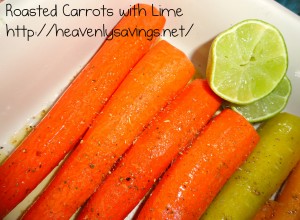 I love carrots and recently I have had an abundance of the rainbow colored carrots! It's wonderful! The kids love the fun color's and I love that they are eating them without complaining!
One of the recipes I have made recently that my family fell in love with is Carrots baked with lime. This dish is very easy and gives the carrots a new fun flavor that is perfect for summer time!
Roasted Carrots with Lime
 Ingredients:
1 lb carrots 2 Limes Juiced 2 tsp Italian seasoning (mixed Thyme, Basil, Oregano etc….) 2 tbs olive oil salt and pepper to taste  
Preheat oven to 400 degrees
Wash carrots, peel and cut off ends.
Place in Baking dish and sprinkle lime juice, Italian seasoning and olive oil over carrots.
Bake 15 minutes in oven
Season with salt and pepper before serving. Enjoy!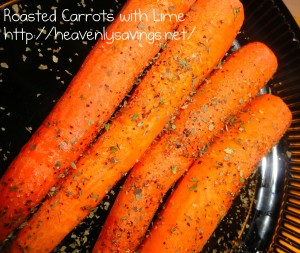 This recipe was quick and easy. The carrots were slightly crispy and bursting with flavor. I love how this is a dish that I can serve as a side with just about anything and it's something that company would also enjoy! Also it can be prepared outside on the grill by just wrapping the carrots in aluminum foil before placing on the grill! Yum!