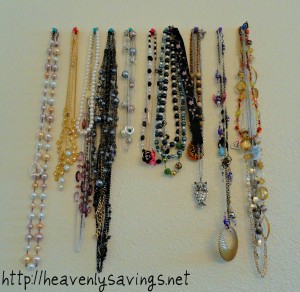 Necklace Organization
I have been on an organization kick recently. I has been crazy around my house as I am trying to re-do every single room in the house all at once. Not an easy feat to accomplish but I am slowly getting there.
Recently I was trying to figure out a way get my necklaces out of the jewelry box that is taking up space on my counter and get them out in the open so I can physically see what necklaces I have that will match with what I am wearing that day.
I went through lots of different options in my mind but I finally settled on the perfect option for me. Behind my bathroom door I put push pins in the wall about 2-3 inches apart. I can now hang my necklaces on the pins so that I can physically see them which in turn will help me to wear them more often. Also having them behind the door of the bath room is perfect for me because it does not take up much room and I am utilizing a space in my bathroom that I have never been able to utilize before! It's great!
Need another idea for necklace storage? I also have a few hooks on the back of my cabinet doors to hang necklaces and bracelets that I don't wear very often.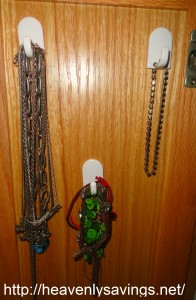 Are you on the lookout for ways to organize your home? Check out my Household Ideas tab!