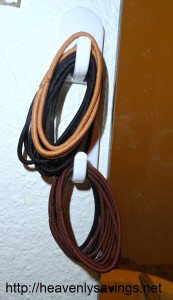 Hair Tie Organization
As most of you know I have been going crazy with organizing my home. This is something that I have needed to do since moving into this home 5 years ago but have never found the time.
One of the items that I am tired of cluttering up my bathroom is my daughters hair ties. They are usually tossed into a drawer or on the counter. It drives me crazy because when I actually need one I can't find them!
To solve the problem of the hair ties being all over the house I decided to hang some simple little hooks that I purchased at Walmart. They were about $5 for two hooks and I quickly placed them next to the mirror in my bathroom. The hooks are easy to access as they are near where I do my daughters hair each morning and I am easily able to hang the hair ties onto the hooks! This has been a genius idea and has really helped me not only find them when I need them but free up some space and make things look nicer in my bathroom! YAY!
Are you on the lookout for ways to organize your home? Check out my Household Ideas tab!