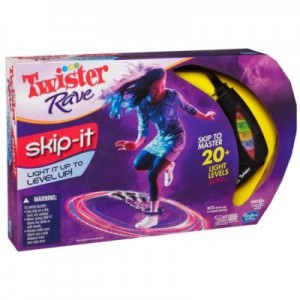 My Thoughts on Twister Rave Skip It!
I love Skip It! I remember when it first came out when I was a kid. I got an awesome pink one and I loved it! It was one of my top favorite things to do with my friends.
Hasbro knows just how to get kids off the couch and this time it is with their awesome Twister Rave Skip It! It is a modernized version of the skip it I knew and loved. This time they have added the fun of twister and bright lights! I mean what kid does not love bright lights?
During Twister Rave Skip It you can light up different lights for each level that you get to. The levels go all the way up to 30! After reaching the top level Skip It will reset and start out on the lights again! How fun! The kids are still trying to make it to level 2 but I know they will get it eventually! They are just having a blast jumping around all over the back yard!
From Press Release:
TWISTER RAVE Skip It®
Skip-It® is back in 2013 with the all-new TWISTER RAVE Skip-It® game that will have players skipping as long as they can! The longer you go, the more you glow as multi-color LEDs reveal 20+ color levels as you play! Try to master TWISTER RAVE Skip-It® by getting the game to light up to reveal all four iconic TWISTER colors (red, blue, yellow and green). The fun never ends when you're skipping your way to victory! (Requires 3 AAA batteries – not included).
Age: 6+; Players: 1; Available: Now at mass merchandise retailers nationwide; Approximate Retail Price: $19.99
TWISTER RAVE Ringz
It's all about the bling! This quick-action game challenges girls to twist, snap and clap to keep the beat to more than 20 different handclap games found online at PlayTwister.com. With each movement, the rings light up and change color. If you complete the handclap games in perfect sync, all rings in the game should start and finish on the same color! The TWISTER RAVE Ringz are perfect to bring along wherever your day takes you for impromptu gaming fun. Girls can check out online videos at PlayTwister.com to learn new skills and tricks! (2 electronic Ringz per pack; each ring requires 3 button cell batteries – demo batteries included).
Age: 8+; Players: 1-2; Available: Now at mass merchandise retailers nationwide; Approximate Retail Price: $7.99