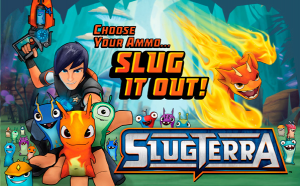 My Thoughts on SlugTerra: Return of the Shane Gang
I just don't understand cartoons now a days. Shooting slugs at each other is just not something I would have watched when I was a kid and for some reason the kids that I tend during the day can't get enough.
To be honest I had never heard of SlugTerra before. When the DVD arrived I did not know what to expect but as I opened the box the boys started screaming with anticipate. It turns out that they did in fact know what SlugTerra was as well as what channel and time it came on. I was impressed with their enthusiasm so I decided to sit down and watch it wit them.
I must say that after an hour of watching it I could not really find any reason why I would watch it again. However, there was also nothing in this cartoon that was bad or disrespectful which would lead me to not let the kids watch it. In fact they love it and have watched this DVD many, MANY times since it's arrival. So, if your child is into that type of thing then it's a show that I would absolutely recommend. It is fun and kid friendly even if I don't really see a point in it!
From Press Release:

From Press Release:
SLUGTERRA: RETURN OF THE SHANE GANG
Eli Shane is determined to be the greatest slugslinging hero of them all. To do it, he'll need to collect and train an army of little critters called slugs. When these magical creatures are fired at 100 MPH out of a high-powered blaster,they transform into powerful battle beasts! The adventure follows Eli and his team of friends as they explore the underground caverns of Slugterra, challenge rivals and each other to duels, upgrade their cool gear, and generally have a blast in this never-before-imagined world. But there is a very real threat to Slugterra; Dr. Blakk is seeking to "ghoul" the slugs, transforming them into feral mindless weapons!  No one has been able to stand up to Blakk's powerful ghouls and army of henchmen… until now!
** I received a product for the purpose of this review. However, my own opinion was used and not influenced in any way.