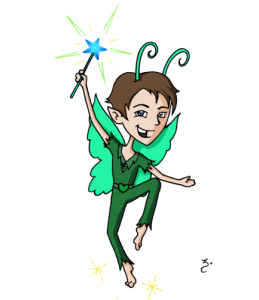 I Got a Visit from The Fairy Hobmother!
The Fairy Hobmother is at it again. This time on my blog! YAY!
I was very surprised by The Fairy Hobmothers visit. It is nice to wake up to an unexpected surprise that brings joy to your heart. It also got me to thinking about ways that I can give back to others and help bring joy to the hearts of others just like The Fairy Hobmother did for me.
"We make a living by what we get, but we make a life by what we give." ~Winston Churchill
1. Look someone in the eye and smile. This may seem like a little thing. But when I make eye contact with a stranger I always give a smile. Who knows what things they may be feeling or going through that day. I know a simple smile from someone always makes my day a little brighter.
2. Volunteering – This may seem a little harder to do for some. Maybe you don't think you have the time or you don't know where to go or how to get started. Just a simple phone call to your local library, animal shelter, hospital or nursing home is all it takes. Recently I have been helping the youth at my church with some service projects. One of them came up with the idea to help an animal shelter. All she had to do was make a quick phone call to learn that they were in need of cat beds. The young girl (around age 10) decided that this would be a great way to give back and came up with the idea of stuffing pillow cases with shredded cloth to make a cat bed. This volunteering project was very simple and all it took was a phone call to be able to help.
3. Gifts out of the blue are always nice. I remember an idea that I had about 8 years ago with some women at my church. We were planning activities for February and since it is the month of love we decided to pass out baskets. Each woman had a name of another sister in the church as well as a basket to "fill with goodies" the baskets could contain anything but did have a $5 limit. The women of the church were then told to fill the baskets and leave them on the doorstep of the person whom they had the name of. These baskets were so much fun because they were all a big secret as to who each sister got a gift from. It was also fun to knock on the door and run and since they had the whole month to do it the sisters never knew when theirs would arrive and loved the anticipation. There was so much thought and love that was put into each basket and it made everyone feel special.
4. Donate – Spring is in the air and with that comes spring cleaning. It is time to go through those clothes, shoes, toys, cupboards, closets, sheds and garages! There are many people in need of the things you may not need anymore. You can always donate to the Salvation Army, Goodwill, Red-cross, and local shelters for homeless, women's abuse shelters, or foster kids.
5. Tutoring – There are many kids struggling in this world today. They are having a hard time making friends, keeping their grades up and just being educated on life. There are so many children living with only one parent in the home and they are in need of what the other parent could teach them. For example some of the boys with single mothers might need to learn how to change a tire, play football or fish. Some girls with single dads might need help learning how to braid their hair or bake a cake. There are so many ways to help local kids. Call the schools in your area. See if you can tutor any of the children. See if your local town has a buddy program to help kids. These kids are our future. They need us!
Are there ways that you like to give back? I would love to hear your ideas on how you can better your community!
– Would you like The Fairy Hobmother to visit you? Leave a comment and you just might wake up to an exciting surprise like I did!
**I was provided with an Amazon Gift Card as payment for this post. However all thoughts and opinions used were my own and I was not influenced in any way. Thank you Fairy Hobmother!