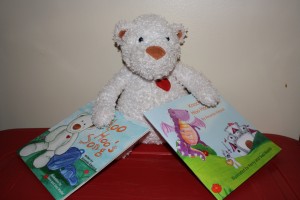 My Thoughts on Hoo Hoo The Bear
Every child loves to read and listen to stories. I know that reading books and listening to stories is my daughters favorite thing to do. She is not alone in this as  for children books are a way for them to transport themselves to imaginary lands far far away.
Hoo Hoo The Bear takes reading stories to a whole new level. While reading Hoo Hoo The Bear books they can also have their beloved friend Hoo Hoo The Bear at their side.
Hoo Hoo The Bear is a lovable bear who has a song in his heart. That song lead him to a friend who needed him. Every child needs a cuddly friend to talk, laugh and cry with. A friend to take with them on their many adventures. That is exactly what Hoo Hoo The Bear is here for.
Hoo Hoo The Bear is a cute and cuddly plush. He also has six fun filled adventure books that are written with him in them that your child can read or listen to while cuddling with their bear friend.
Christmas Hoo Hoo Bear
Don't Get a Boo Boo, Hoo Hoo!-Safety Book- Hardcover
Hoo Hoo Hoo!! Merry Christmas!-Hardcover
Hoo is from Baltimore, Hon!-Hardcover
"Hoo Hoo's Song" Hardcover Storybook
Knock Knock! Hoo Hoo's There!- Hardcover
I was lucky enough to receive Hoo Hoo The Bear with his book Hoo Hoo's Song. It was a great book that allowed me to introduce Hoo Hoo The Bear to my family. It helped them understand where he came from and why he is here. He is here to give love to everyone and go on fun adventures with friends!
In the back of the book is also some fun interaction for the kids. They can color Hoo Hoo The Bear and even help him get through a maze to rescue a princess!