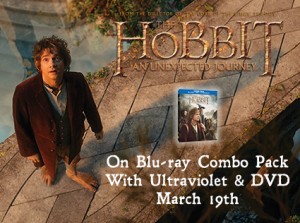 I am SO excited for The Hobbit! I have not seen it yet but I have been going crazy waiting for it to be out on Blu-Ray! I'm so excited!
From Press Release:
J.R.R. Tolkien's epic adventure follows the journey of Bilbo Baggins, who is swept into an amazing quest to reclaim the lost Dwarf Kingdom of Erebor from the fearsome dragon Smaug. Approached out of the blue by the wizard Gandalf the Grey, Bilbo finds himself joining a company of thirteen dwarves led by the legendary warrior, Thorin Oakenshield. Their journey will take them into the Wild; through treacherous lands swarming with Goblins and Orcs, deadly Wargs and Sorcerers.
From Academy Award®-winning filmmaker Peter Jackson comes "The Hobbit: An Unexpected Journey," the first of a trilogy of films adapting the enduringly popular masterpiece The Hobbit, by J.R.R. Tolkien.
Are You 100% Hobbit Quiz! What has a tendency to be very brave, is around 4 ft. tall with sharp eyesight, little to no facial hair, and loves cake? If you thought we were talking about you, then you might be a Hobbit Indeed! Take the quiz to find out just how much of a Hobbit you are!
•           Creatures of Middle-earth! Hobbits, Elves and Dwarves are just a few of the magical creatures that call Middle-earth home. Check out vital stats and unique features about each one!
•           The Hobbit Handbook! Our Hobbit Handbook includes everything you need to throw the best viewing party in Middle-earth right at home!
•           Get Social! Tweet with the #TheHobbit hashtag to get your audience excited about the premiere of The Hobbit: An Unexpected Journey coming to Blu-ray & DVD March 19th 2013!