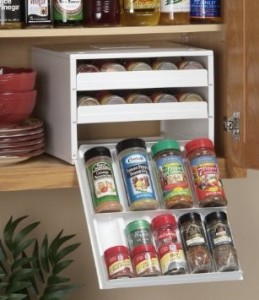 My Thoughts on Spice Stack by YouCopia!
I have a huge goal this year. To organize my house. I live such an organized life but to see my house you would never think that. One of the biggest organization issues I have in the kitchen is my spices. I mean it is insane but I literally have three cupboards of spices which I know is crazy but I really do use all of them.
When you have a lot of spices in your cupboards like I do it can be really hard to find exactly what spice you are looking for when you need it. That is why I really like this awesome new Spice Stack that I received in the mail from YouCopia!
The YouCopia Spice Stack holds 30 spices and allows me to find them quickly and easily. All I have to do is slid out each organizing shelf and I can easily view all the spices quickly and easily. Plus the Spice Stack can be purchased  in different sizes to fit into any size space and cupboard.
I don't know about you and your organization in your kitchen but I can honestly say that having this SpiceStack has had a huge improvement on my mood while cooking. I can actually find all my spices easily without them falling out of the cupboard all over my kitchen. There is no more digging. The only complaint I would have about this is it does not fit my square spices but they are easy to stack and stay organized anyway on their own so that complaint is not a huge issue to me.
If you are looking for a way to organize your kitchen and need a little help I would recommend you look into YouCopia's SpiceStack! It's a great addition to any kitchen!
**I was sent a product for the purpose of this review. However, my own opinion was used and not influenced in any way.