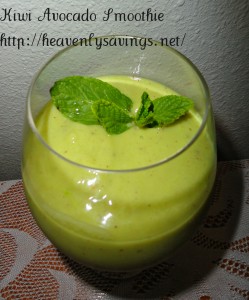 Kiwi Avocado Smoothie!
The days are warming up and that means summer time foods! I am so excited to have fresh product to make smoothie's with! There is nothing better to help you start your day then a fresh fruit smoothie. One like the Kiwi Avocado smoothie pictured above!
This week I was lucky enough to have avocado's and kiwi's in the house. As I was trying to figure out something amazing to do with them I thought of this Kiwi Avocado Smoothie…..well kiwi's and avocado's are green….and St. Patrick's Day is this weekend so why not?
I had never thought about adding avocado's to my smoothie's before but I must admit this was AMAZING!
Ingredients:
1 ripe avacado
2 kiwi's peeled
juice from 1-2 lime(s) – depending on how much you love lime 😉
1/8 C coconut water/milk
2 TBS honey
2-3 ice cubes
1. Place all ingredients into Magic Bullet and blend until well blended.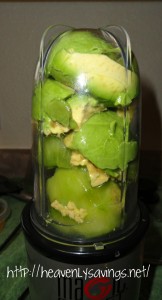 I know that I will be making this amazing smoothie long after St. Patrick's Day. It really was one of the best smoothie's I have ever made. The kids also thought it was amazing and could not get enough. I can't wait to get more avocado's and kiwi's in the house so I can make this again! Yum!
I got the inspiration for this recipe from Feasting At Home!