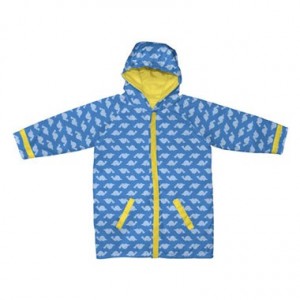 Today is one of the first days all year that I can actually feel spring in the air. It has been a super cold winter and although we did not get as much snow as we are used to I am still ready for spring!
With spring time comes spring showers and I must say that rain is one of the best things ever! I love running through the rain, smelling the rain and the beauty that each rainfall brings with it.
I also love super cute rain jackets which is exactly what I got when I got a toddler rain coat from iplaybabywear.com!
Now rain coats are not the only thing that iplay has to offer. They also offer a large array of items for the Nursery, Outerwear for fun in the sun as well as other super cute outfits for the young ones. But, I must say that out of all of those choices the raincoats are my favorite. I mean look at how cute they are.
Ok, now I know that being cute is one thing. But, what about the quality. Well it just so happens that, that is outstanding as well. iplay focus on ethical practices and is genuinely concerned with the factories that make these adorable outfits for your baby. Each iplay item is made in a non-toxic environmental and by people that are treated honestly and fairly. This iplay raincoat is a raincoat that I can pass down from kiddo to kiddo and not have to worry! I'm super excited about everything iplay has to offer and I know you will be too.
So how would you like to win an iplay raincoat of your vary own? I am happy to say that one lucky US reader can do just that!