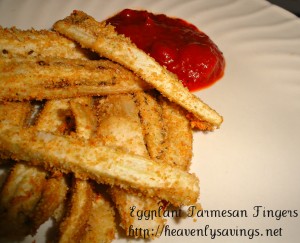 Eggplant Parmesan Fingers
I used to dislike Eggplant. It was one of those vegetables that I really wanted to like and I used to try it out in all kinds of recipes that would just later get trashed because I could not stand the taste of the eggplant.
I was discussing this with my cousin (who runs FarmersWifeRambels.com) and she let me in on her amazing eggplant recipe. I must admit that I could not wait to give this a try as it did not only sound simple and easy but very kid friendly!
Ingredients:
Eggplant  crushed croutons – any flavor 1/4 c Parmesan cheese Marinara Sauce for dipping  
1.Use vegetable peeler to peel purple skin off eggplant. Slice Eggplant into thin strips much like french fries.
2. Add crushed croutons and Parmesan cheese to a Ziploc bag.
3. Add sliced Eggplant to Ziploc bag and shake until eggplant is coated with crumb mixture.
4. Dump contents of Ziploc onto baking sheet (I used a cookie sheet).
5. Bake at 350 degrees for about 20 minutes or until golden brown.
6. Serve with Marinara Sauce for dipping!
These turned out amazing! It really is the first eggplant recipe that I fully enjoyed..but it was not just me that could not get enough of these Eggplant Parmesan Fingers! The kids loved them as well! There was not fight to try to get them to eat their eggplant. They just devoured! We will be making these much more often in my home! Yum!