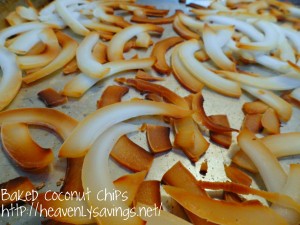 Easy to Make Homemade Coconut Chips!
I am a sucker for chips. I don't care if they are potato, tortilla, beets, kale, salad savoy, or anything else! Chips are just amazing. Ok so the truth is, I think I am more addicted to the salt then anything which I know is not the healthiest but that's ok. At least if I am getting my 'chip' fix in a healthy way I guess that should count for something. Recently I came across a recipe for Coconut Chips. I have never, ever seen coconut chips before but since I have been on the coconut fix I knew I had to give them a try! Remember that if you need help getting into your coconut you can read my tutorial here!
Ingredients:
Coconut thinly Sliced Salt  
Directions
Preheat oven to 350 degrees.
Place thinly sliced coconut on baking sheet (I used cookie Sheet), Lightly salt. Bake until golden brown on ends about 10 minutes!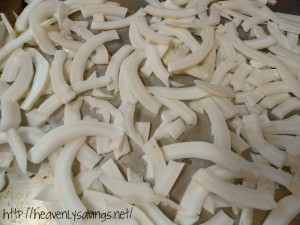 The coconut chips were very simple to make and they were a huge hit at my house. I love having this low calorie snack on hand to munch on throughout the day and not have to worry about my salt intake as these are only lightly salted. Plus the taste was out of this world! Simply amazing!