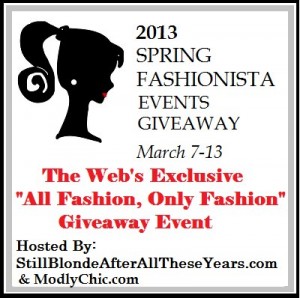 Oh my goodness! It's here!! It's here!
Every year I look forward to both of the amazing fashion events, The Spring Fashionista Giveaway Event is hosted by The Chief Blonde at Still Blonde After All These Years  and Katy from  ModlyChic  and  K Squared Glamour  is our co-host! Not only is it great to get to know so many new fans but the giveaways on all these blogs are so amazing!
It's not often that you can hop from blog to blog and enter to win prize packages worth Hundreds of dollars or more. The prizes are amazing!
Here at Heavenly Savings I am pretty jealous at the prize all of you get to enter to win. I have a COACH HANDBAG up for grabbed and since I am sponsoring this myself I am willing to ship this prize anywhere!
Also For every giveaway in the Spring Fashionista Event that an entrant enters, they gain one entry toward the Spring Fashionista Events Main Event Prizes.  Go here to enter Main Event==> $1200 in Main Event Prizes
Prizes total $1200 and Include:
$600 White Gold and Citrene Stone Necklace from Emma Parker Diamonds (Diamond engagment Rings) (WOrldwide)
$100 Amazon Gift Card (WorldWide)
$250 Gift Card from  Midnight Velvet (clothing, accessories and home decor) (US ONLY)
$250 in Shoes from  Bobbi-Toad (adorable children's Shoes) Worldwide
Still Blonde after all these YEARS , Modly Chic, K Squared Glamour and Spring Fashionista Events Giveaway  or the Spring Fashionista Events Giveaway are not responsible for sponsors/bloggers that do not fulfill their prizes or for any product failure or harm caused thereby.