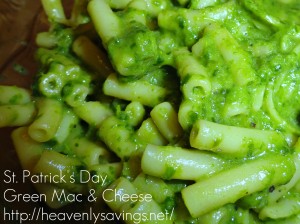 Healthy St. Patrick's Day Mac & Cheese!
St. Patrick's Day is my favorite holiday. I know that sounds crazy and I am not Irish so I don't even have that as an excuse. I just love that it is a fun holiday that is not yet taken over by store sales and media. I love the thought that if you don't wear green you will get pinched and I loved all the amazing St. Patrick's Day traditions I had as a child.
My Mom used to have a St. Patrick's Day 'pin collection' and every St. Patrick's Day my brothers and I would get to choose what 'pins' and such we would wear to school that day. It was fun choosing my green socks and doing my hair in funky green colors. It was just an all around great time.
Now that I am older I still love St. Patrick's Day. Each year I try to make the month of March leading up to the 17th special for the kids. Recently that entailed making healthy green Mac & Cheese.
Ingredients:
Box of Mac & Cheese Milk Bundle Spinach (about 3 cups) – make sure you wash it well first Salt and Pepper as needed  
Okay…now reading those ingredients you might be surprised that I used a Boxed Mac & Cheese…but yes. For this recipe I did as it was quick and easy.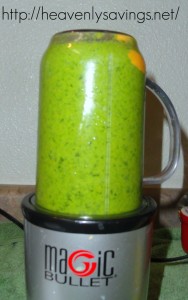 1.- I prepared the macaroni as directed on the box.
2. While the macaroni was cooking I added the milk (how much was said on box of Mac & Cheese) as well as cheese and bundle of spinach to the Magic Bullet. Blend until smooth.
3. Drain macaroni and add the spinach mixture to the macaroni. It will turn green and me a little healthier then just the boxed stuff! Sprinkle with Salt and Pepper as needed!
The kids were thrilled with their Green Mac & Cheese and it really helped put them in the St. Patrick's Day mood. Plus they never even guessed that it was spinach! YAY!