Open a Coconut the Safe and Easy Way!
One of the biggest reasons why I never purchased coconuts in the past was because of how hard they are to open. I mean I you could really hurt yourself trying to get that tasty white meat out of one of those thing. Well that was until I learned how to open a coconut the safe and easy way. Who would have thought that baking a coconut would pop it's shell off like that? Certainly not me, but that is exactly what happened!
Now I have no excuse for not purchasing coconut's and I am so excited for the amazing recipes I will soon be posting! Yum!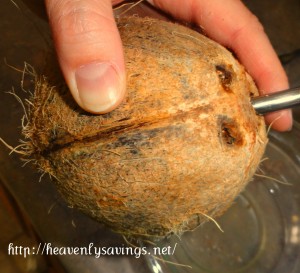 The first thing you will want to do when opening a coconut is find the soft eye at the top. Every coconut has three 'eyes'. Two of them are hard and one is soft. By taking a "clean" screwdriver and poking at the holes you will be able to find the soft one. The screwdriver will be able to go into the eye without much force.
When you find the soft eye move the screw driver around to make that hole as big as you can. This will allow you to drain out the delicious coconut water from the inside.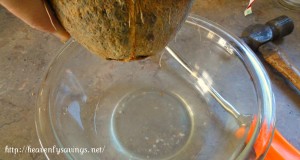 As the water is draining out of the coconut you will want to set your oven to 400 degrees Fahrenheit.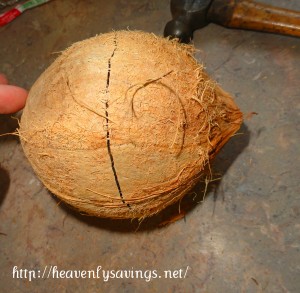 Once the oven is preheated you will want to place your coconut on the baking rack for about 15 minutes or until the shell of the coconut cracks.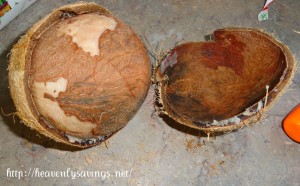 Once you see the shell cracking (about 15 minutes in oven) you will need to get it out of the oven. Be careful as the coconut will be hot. Place the coconut on counter and hit several times with a hammer until the shell separates from the coconut meat.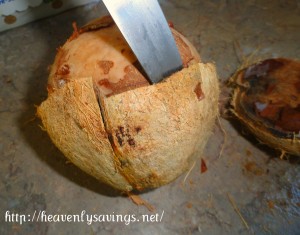 If you have some of the coconut that is still stuck in the shell you can take a butter knife or flat head screwdriver around the shell between the shell and the meat of the coconut. This will help to separate the coconut so that you can remove it from the shell easily.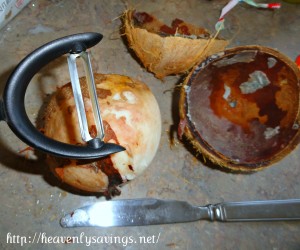 Once you have the coconut out of the shell you can take a vegetable peeler and remove the soft brown skin from the coconut meat.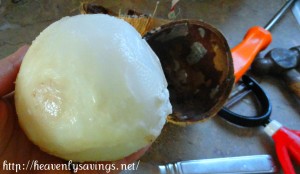 There you go! A safe and easy way to remove the shell from a coconut! Look at that delicious white ball of coconut meat!