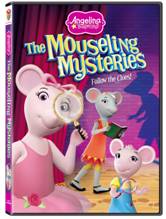 My Thoughts On Angelina Ballerina The Mouseling Mysteries DVD
My daughter is a huge fan of mystery's and anything to do with spy's and detectives. I was so excited to see that Angelina Ballerina now has a DVD out that will take the kids on a fun filled mystery. In Angelina Ballerina The Mouseling Mysteries you will have fun following the clues and solving the puzzle. This is one Angelina Ballerina that I know my daughter will not get enough of. I am so excited for her to get home from school so she can watch it with me. Ok I know it's sad. I actually watched this one without her today….but I was so excited for it!
From the Press Release:
Get ready for some mystery-solving fun with everyone's favorite dancer in the all-new Angelina Ballerina®: The Mouseling Mysteries, available on DVD, Digital Download and Video On Demand March 12, 2013 from Lionsgate and HIT Entertainment.  From vanishing music to a missing bird, to seeking out eerie noises echoing through a haunted hall, Angelina Ballerina and her pirouetting posse are on the case to get to the bottom of this fantastical collection of whodunits. 
A beloved publishing property for close to three decades, selling over 1.5MM books and printing over 50 titles, Angelina Ballerina embodies dance, music and performance while inspiring girls to achieve their dreams.
SYNOPSIS
Put on your detective cap and search for the clues with Angelina Ballerina in The Mouseling Mysteries! Something suspicious is going on in Chipping Cheddar: Gracie fears Roquefort Hall is haunted when she hears strange sounds, Marco's music goes missing and Mr. Chirpyface disappears while Angelina is bird sitting for Ms. Mimi!  Can Angelina and her friends stay en pointe and follow the clues to solve these mysteries? Join the fun and gather the evidence with Camembert's star detectives!
Episodes:
·

        
"Angelina and Roquefort's Rhythmic Ghost"
·

        
"Angelina and the Case of the Missing Music"
·

        
"Angelina, the Pet Sitter"
·

        
"Angelina and Super Polly"
·

        
"Angelina and the Marcel Mousseau Mime Challenge"
DVD BONUS FEATURES
·

        

Solve a Mystery Karaoke Music Video

·

        

Prima Ballerina Puzzles