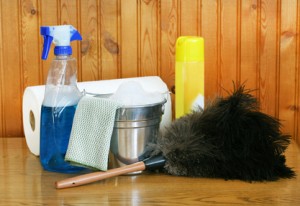 It's almost time for Spring Cleaning, the time of year when everyone around the world does a deep cleaning of their home, open their windows to let in the sunshine and declutters the drawers. Keep these areas in mind when cleaning your home:
Organizing Closets
Do you have a "forbidden closet" in your home where odds and ends, vacuum cleaners and winter coats all reside? It's time to clean out and organize them.
For your clothing closet, get rid of unused clothing and accessories and organize the rest by how you get dressed in the morning, having the most frequently used items toward the front. Utilize the three-box rule: donate, keep and store. While going through the closet figure out which items you want to keep, which ones you want to donate and those that you wish to store. Once you organize the items into the three boxes, take action soon. You don't want to build up clutter. Take the donation box to Goodwill. Use a storage unit rental facility to keep your stored items organized and out of the house.
Pillows
InspirationForMoms.com has some great tips on cleaning those dirty bedroom pillows. Most people don't clean their pillows, ever. But did you know that sweat, dead skin cells and bodily fluids embed into the pillow? Gross! Most down and synthetic pillows can be washed in a washing machine. This should be done every few months. Wash two at a time to help balance the load. Use the gentle cycle and warm water with a mild detergent. To make sure they're rinsed thoroughly, run them through the rinse cycle twice. If you have foam or feather pillows, they need to be hand washed in the sink with warm water and powdered detergent. To dry synthetic and down pillows, place in the dryer on a low setting, fluffing often. For feather and foam pillows, air dry is just fine.
Ceiling Fan
We often times forget about cleaning our ceiling fans until we turn them on after a long winter and find gobs of dirty raining down. The good news is that cleaning ceiling fans is very easy. Simply slide each blade into a pillowcase and wipe off the dirty blade with the inside of the pillowcase (all the dust and dirt will stay inside the pillowcase). Then shake out the case outside and throw it in the laundry. Easy! And the best part is you don't get a face full of dust.
Grout
Grout can be a pain to clean and can be such an eye sore when dirty and grimy. Lowes Creative Ideas has some great tips on how to clean your grout, bringing their original beauty into view.
Step 1: Clean the entire floor as you normally would. If your grout has an old, worn coating of grout sealer, use a flooring finish stripper to remove it from the surface. Rinse with clean water and allow to dry.
Step 2: Apply a commercial grout cleaner according to the manufacturer's directions and start scrubbing the tile with a nylon-bristle brush — an old toothbrush works as well. TIP: Work in small sections at a time and rinse the cleaner from the floor with water before moving on to a new section.
Step 3: When the grout is clean, rinse the floor once more with buckets of clean water.
Walls
Use a damp cleaning cloth or sponge and water to clean those dirty, painted walls. Dirt collects on the walls and is hard to see if you have light-color walls. Pet hair, dirt and dust all collect on walls so be sure to get every inch of the walls throughout your home. You might want to get help from friends or your kids because this is a big project.
Michelle O'brien
A decorator at heart, Michelle also shares clothing and shoe designs with her readers. She's a do-it-yourself kind of gal for sure.