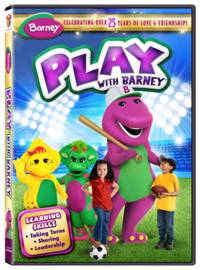 My Thoughts on Play with Barney
Barney is celebrating over 25 years of love and friendship! On video March 5, 2013 you will be able to purchase Play with Barney. A new DVD that includes 4 episodes and lots of other fun bonus features. Play with Barney will have your kiddo's ready for summer time fun with all the active adventures Barney and his friends enjoy in these 4 fun filled episodes!
I can't believe that it has already been over 25 years for Barney. I remember it being on TV when I was a child but those day's seem like yesterday.
I am glad that Barney is still around and it a way that the kids can get some education and imaginative fun in a way that I know is good for my kids. I can honestly say that I have never turned on Barney and worried about what the kids might learn from it. It is just all around great fun!
On the Back
Barney & Friends demonstrate all the benefits of play with their signature style of imagination, music and laughs! Baby Boy, BJ and Riff get practice being leaders and trying new sports like baseball and basketball, and everyone learns that taking turns, following the rules, practicing and cleaning up makes every game more fun. Especially when you do it with friends! So join the team and have a ball with Barney & Friends!
Includes 4 Episodes:
Let's Play Games Playing Games Riff to the Rescue! For the Fun of It
Play Bonus Features!
Let's Play with Opposites Game Let's Play with Barney Video Hickory Dickory Dock Karaoke Music Video Mary Had a Little Lamb Karoake Music Video
I am also excited to say that one lucky US reader will be able to win a copy of Play With Barney DVD right here on Heavenly Savings! Good Luck to all!