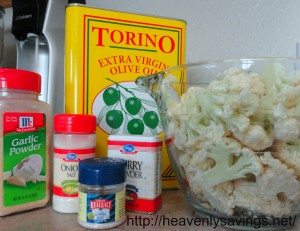 Roasted Curry Cauliflower!
Cauliflower is one of those veggies that I like but I prefer to eat it cooked. Recently I came across this recipe for Roasted Cauliflower and I must say this is a new hit at my house. It was absolutely delicious!! I could not get enough and neither could my family!
Ingredients:
3 Tbs olive oil
1/2 tsp garlic powder
1/4 tsp onion salt
1 head of cauliflower – washed and sliced
1 1/2 teaspoon curry power
Sea salt
Directions:
1. Preheat oven to 400 degrees F.
2. Add olive oil, garlic powder and onion salt into small bowl.
3. Spread cauliflower on baking sheet.
4. drizzle olive oil mixture over cauliflower florets.
5. sprinkle with curry powder and sea salt.
6. Bake at 400 degrees F. for 30 minutes or until golden brown in color.