Remember in December when I told you about a wonderful new app that would soon be available? Well it's February!! That means that the Little Critter App will be available!
In celebration of this wonderful app for the kids I am happy to say that I am hosting a giveaway. I am so excited for this giveaway as it is a signed copy of a Little Critter book by Mercer Mayer!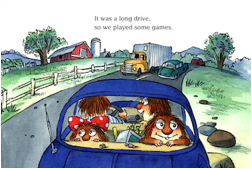 From Press Release:
Mercer Mayer's Little Critter appeals to young readers who identify with his first-person narration of his thoughts, feelings, ideas and inspirations as he navigates the challenges of childhood.  Life in Critterville mirrors the everyday experiences of children everywhere.  Little Critter and his best friends Tiger and Gator love to play sports, read comics, ride skateboards and go on school field trips, out for pizza, and to the movies!  And just like real-life kids, they deal with challenges, help their friends, love their pets and get annoyed by their younger siblings while striving for independence and a better understanding of their world.
Kids empathize with Little Critter and the situations he finds himself in that are so familiar to them, and laugh along at his heart-warming and ever hopeful efforts to negotiate the world.  Little Critter shows that it's all right to fail and try again, and to keep trying until you get it right.  And just as importantly, have fun and laugh at themselves in the process, which is perhaps the biggest secret of all!
If you love Mercer Mayer's Little Critter books—you are going to love this new app!  Here's another scene from the upcoming Little Critter: The Trip app.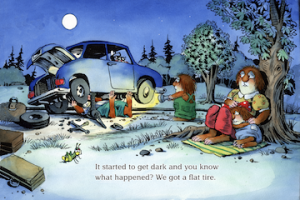 Available in February 2013, Silver Dolphin Book's Little Critter: The Trip app invites young children to learn along with Little Critter and the other familiar characters who will reinforce their ability to resolve the practical, down-to-earth, family-based situations typically presented in Mayer's book series.  Offering a balance of fun games and learning activities, the Little Critter app emphasizes basic pre-school and early elementary curriculum (numbers, shapes, colors, patterns, letters, simple words, map reading).
In Little Critter: The Trip, you will be able to take an action-packed car trip with Little Critter, Little Sister, Mom and Dad in which everything imaginable happens—literally—from A to Z, in this fun-filled interactive app! "B is for bad" when the "T is for tire" goes flat!  And "L is for lost"when where did the "R is for road" go?  Little Critters' trip is full of humorous ups and downs like the actual road they're following! It's up to you and Little Critter to help find the way, fix the car when it breaks down, and play lots of fun "G is for games" with Little Sister to pass the time!  Kids learn along with Little Critter as, true to his nature, he cheers you on to scale new heights!