G.I. Joe Renegades  –
The Complete First Season Review!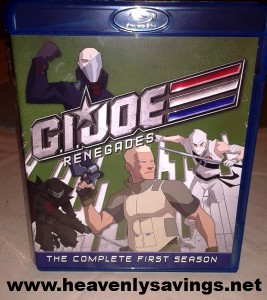 Can we say classic?! This is G.I. Joe we are talking about and now that I just wrote that I have the theme song stuck in my head! G.I. Joe….A Real American Hero! Ok if you had brothers growing up or simply loved G.I. Joe's growing up, you too will now have the theme song stuck in your head.
G.I. Joe Renegades is now on Blu-Ray Disc and this package comes with the complete first season. Three discs in all and it looks better now on your TV than it did when you were little so it's time to open it up and show your kids what you used to watch growing up, except better quality for sure!
This happens to be an awesome set here for both boys and girls! I used to watch and play with G.I. Joe's all the time growing up and yes they did coexist with my dolls quite nicely as they would always save the day and protect them!
The whole season starts out with the G.I. Joe team being forced out and made as fugitives and they now have to work together to prove to the world that they are innocent. Should I mention that this is jam packed with adventure around every corner?! I mean this is G.I. Joe here and you know that they are innocent and good so rooting for them to prove their innocence is part of the excitement with this three blu-ray disc set!
The total running time on all three discs is around 9.5 hours and let me tell you, when you have a son who has a hard time sitting still even when he is running a fever, this is a great way to keep him laying still without having to ponder if duct tape would do the trick.
G.I. Joe Renegades, The Complete First Season also comes with some bonus features such as commentaries and behind the scenes of it all. Very entertaining to say the least!
~Tammy~
** I was sent a copy of this product for the purpose of this review. However, my own opinion was used and not influenced in any way.