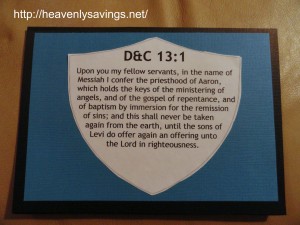 I recently received a new calling in Church! I am so excited for this new adventure being in the Primary Presidency. I must admit that I will miss teaching Gospel Principals but I look forward to whats to come!
One of my first tasks being in the Primary Presidency was to create an invitation to Priesthood Preview. We decided on an Armor of God theme and I was ecstatic to see what I could come up with.
My first thought was I wanted to find a scripture that went along with their big step in their life. Since the theme is Armor of God I found a shield clip art image from here.
After I put D&C 13:1 in the shield I glued it onto a piece of blue 4×6 cardstock. Next I glued the blue cardstock onto a black notecard.
The last step I needed to do was find another cute Armor of God clip art image for the inside. I came across this image. It fits perfectly with the theme! Then of course I had to add the informational text. After it was printed I cut it out and glued it on the inside of the notecard.
I was thrilled with how well these turned out! How fun! I can't wait for Priesthood Preview!