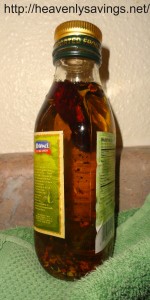 Chili Pepper Olive Oil
I use olive oil frequently at my house. I also know how expensive the flavored olive oil can be so I have started making my own.
Recently I made this Chili Pepper Olive Oil. It is amazing and I have been using it like crazy! Yum!
Ingredients:
1 Bottle Olive Oil 2 dried chili peppers 3 bay leaves 1 tsp crushed red pepper 1/4 tsp black peppercorn  
– Add all ingredients to bottle of olive oil. Let sit for 3-4 weeks before using to help spices mix with olive oil.
That's it…it's just that simple!