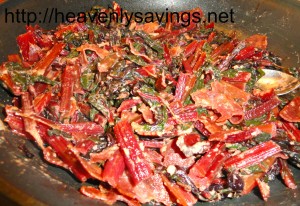 Recently I scored some amazing Red Chard from
Bountiful Baskets
. I was so excited to find the perfect recipe and when I seen this I knew I had to give it a try! Of course I had to change it up a bit, but it turned out perfect!
 Ingredients:
 1 head of garlic, cloves peeled
2 cups milk
3 tbs extra-virgin olive oil
3 pounds Red chard— diced (stems separate) – Can also use Swiss Chard.
1 package bacon, cooked and broken into bite size pieces (I used turkey bacon)
Salt
Freshly ground pepper
Directions:
1- fry bacon in skillet. Remove bacon once cooked and set aside. (Once cooled break into pieces) Drain remaining grease from pan and return to stove-top.
2 – In same skillet add garlic and milk. Bring to boil and simmer over medium heat for about 10 minutes or until the garlic is  softened and the milk is reduced to around 1/2 cup. Let cool and pour into magic bullet or mini processor. Blend together garlic and milk. Set aside.
3- In a saucepan sprinkle salt into boiling water, add chard stems and cook about 5 minutes or until tender. Add chard leaves and cook another two minutes. Drain.
4- In skillet, heat the oil until shimmering. Add the chard and cook over medium high heat for 2 minutes. Stir often. Add the garlic/milk sauce and stir till chard is coated with sauce. Add bacon pieces and cook another 4 minutes stirring often.