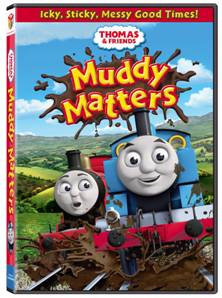 Thomas & Friends is at it again! That is right…this time they are playing in one of my kids favorite places….in the mud! In Thomas & Friends Muddy Matters your kids will have a messy good time as they watch their favorite characters try to get out of their sticky situation.
On The Back
Through mud, garbage and muck, Thomas and his engine friends show that being Really Useful can be a dirty job! See James turn into the Really Muddy Engine and Thomas get showered with garbage. Watch Peter Sam make a big mess trying to keep things on track as Thomas creates chaos with the crows and much, much more. Join Thomas and the Steam Team as they make the best of the mess in these exciting muddy and mucky adventures!
Episodes include:
·                             "Muddy Matters"
·                             "Thomas and the Garbage Train"
·                             "Don't Bother Victor"
·                             "Whiff's Wish"
·                             "Thomas Toots the Crows"
DVD BONUS FEATURES
·                             Go Go Thomas! Karaoke Music Video
·                             Guess Who? Puzzles
·                             Muddy Sheep Roundup Game
DIGITAL BONUS FEATURES
·                             Bonus Episode "Buzzy Bees"
ABOUT THOMAS & FRIENDS™
Thomas the Tank Engine™ was created by a father for his son over 65 years ago and today is enjoyed by families in more than 185 territories and in 30 languages.  The #1 blue engine and his friends invite children to enter a world of imagination through the tracks of a train and the words of a story. Children embark on adventures with their engine friends while experiencing timeless life lessons of discovery, friendship and cooperation. 
For the 11th consecutive year, Thomas & Friends® was the number one license in the preschool toys category in the United States, according to The NPD Group, Inc.Thomas & Friends also holds the number one spot for overall top preschool property in the US, and it was a top 10 property in the entire toy industry for 2011.  The unrivaled popularity of the global brand continues with Thomas ranking as the top toy property in the UK for the past 12 years and also holds the number one preschool toy license in the UK, Germany and Australia. 
PROGRAM INFORMATION
Title Copyright: © 2013 HIT Entertainment Limited. Thomas the Tank Engine & Friends™ Based on The Railway Series by The Reverend W Awdry.  Thomas the Tank Engine & Friends and Thomas & Friends are trademarks of Gullane (Thomas) Limited.  Thomas the Tank Engine & Friends and Design is Reg. U.S. Pat. & Tm. Off. 
Type:  TV on DVD
Rating: Not Rated
Genre: Children/Family/Ages 2-5
Closed Captioned: English
Format: 4×3 Full Screen (1.33:1)
DVD Feature Running Time: 58 minutes
DVD Audio Status: English, Spanish and French 2.0 Dolby Digital
Website: www.lionsgate.com/thomasandfriends
Facebook: http://www.facebook.com/thomasandfriends
Twitter: @TrueBlueEngine