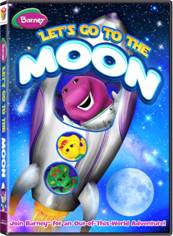 If you are looking for something fun and educational to share with your kids then you can not ever go wrong with Barney. The new release of Barney:Let's Go To The Moon would be a perfect addition to anyone's movie collection and is jam packed with your child's favorite characters; Barney, Baby Bop and Riff! In this out of this world adventure your child will learn about what it takes to reach the stars as well as how to make a spaceship of their vary own. I know my kids would love to make a space ship to play in outside! Their imaginations can really take them on incredible journeys!
On the  Back
Star Light, Star Bright, let's go on a space adventure tonight! Barney encourages Riff to always reach for the stars, even when his homemade spaceship doesn't reach Mars; Baby Bop learns about Mr. Moon's important job lighting the night for the world and BJ sees he's special just the way he is – astronaut or not. Barney and his friends discover that the sky is not the limit when you use your imagination! 
Episodes include:
·        "Dream Big"
·        "The Misbegotten Moon"
·        "The Amazing Captain Pickles"
DVD BONUS FEATURES
·                                                                                                                                                                                                                                                                                                                                                      Barney's Space Adventure Game
·                                                                                                                                                                                                                                                                                                                                                      What's Different? Game
·                                                                                                                                                                                                                                                                                                                                                     I Love You Karaoke Music Video
VOD/DIGITAL BONUS FEATURE
·        "Movement" Bonus Episode
PROGRAM INFORMATION
Year of Production: 2013
Title Copyright: © 2013 Lyons Partnership, L.P.  The Barney name and character, related characters and the overlapping dino spots and Barney and star logos are trademarks of Lyons Partnership, L.P.  Reg. U.S. Pat. & Tm. Off. and other countries.
Type: TV on DVD
Rating: Not Rated
Genre: Children/Family
Age Target: 1-4 years old
Closed Captioned: English
Format: 4×3 Full Screen (1.33:1)
Feature Running Time: 65 minutes
Audio Status: English and Spanish 2.0 Dolby Digital
Program Website: www.barney.com
Facebook: http://www.facebook.com/barney