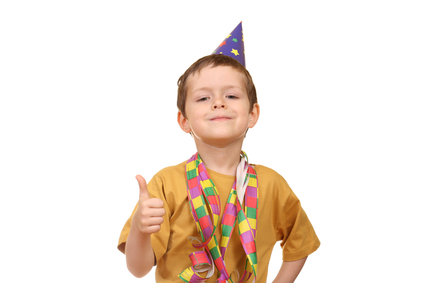 Movies and birthday parties go together like carrots and peas. But, honestly, you can't go wrong with a movie theme birthday party what kid doesn't love movies, candy and snacks?!
With a quick trip to the dollar store (or sometimes Target's dollar section) you have all the supplies you need to turn your home into a movie event with children theme birthday decorations and supplies.
Pass the Popcorn, Please
If you don't already own one, purchase a popcorn machine. Yes, they can be quite expensive but they're worth the investment. In a matter of months you will get so much use out of it it will pay for itself! Your child's guests will squeal with delight when they see a personal popcorn machine, and will have fun scooping out their own popcorn.
Admit One
For some table centerpieces, use rolls of ticket stubs in red or any color that compliments your party's color scheme. You can find these tickets at any party supply store. A fun idea is to pass out these tickets during the course of the party for guests to use before the show to guarantee seats!
Don't Forget the Candy!
It's a pain having to put together goody bags, especially knowing nine times out of ten they get thrown away immediately when the child returns home. How about instead of goody bags, you can give the guests something they can use during the party. Gather some movie-theater style candies and pass them out to everyone in plastic popcorn containers.
Not Enough Couch Space? No Problem
If you don't have enough chair and couch space for the movie screening, just throw down some blankets, pillows or bean bag chairs. To all fathers out there, don't worry, kids are very forgiving and might enjoy a camp-out styled party on the floor! It will make for easy clean up as well just vacuum away all the leftover popcorn and spilled candy.
Child-Friendly Movie Ideas
If you're stumped at what's age appropriate, pick something with family-friendly ratings. If it's PG-13, ask all the parents beforehand if it's an appropriate movie for their child to watch. Here's some great movie examples of kid-tested, kid-approved movies:
1) "UP"
This adorable cartoon movie features talking dogs, a house that floats with hundreds of multi-colored balloons, a grumpy old man and a hilarious little boy scout.
2.) "Finding Nemo"
This cartoon movie follows a timid clownfish who travels all over the ocean to find his son Nemo who has been taken by some deep-sea divers and taken to Sydney. Laugh along with Dory, Marlin and Nemo as the adventure unfolds.
3.) "Cars"
Capow! Lightning McQueen is a hot-shot racecar who gets left in Radiator Springs and learns the true meaning of friendship with the help of Doc, Sally and Mater.
4.) "Alice in Wonderland"
If your little princess wants to have a magical movie night, this is the ticket. During the movie you'll be transported to a time of talking caterpillars, singing flowers and rabbits who wear hats. This out-of-this-world cartoon movie is a Disney classic and fun to watch.
Darla Gregory
Darla is a kids clothing designer and freelance writer on graphic design and trends in gaming design.