Have you ever made Salad in a Jar?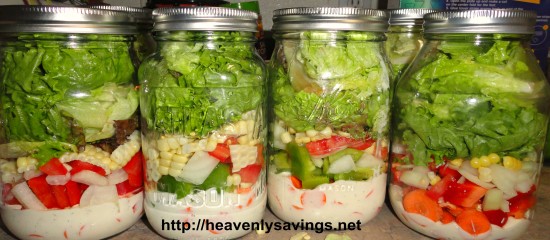 You all know that I can't get enough of Bountiful Baskets! The produce is amazing and around $40 worth of fruits and veggies for just $15 is unbeatable!
One thing that I love doing with all the great vegetables is making salads in a jar. I love being able to just go to my fridge and and grabbing a jar and having my salad already made….and since the jar's have a lid it allows the air to stay out making the salads stay good all week! When you want to eat your salad just take the jar out of the fridge, shake the ingredients and enjoy!
Are you interested in making salads in a jar? Here are a few tips that I have found work best!
Dressing always goes best at the bottom of the jar. You will want to keep it as far from the lettuce as possible as it will make your lettuce turn to slim.
I like to place the hardier veggies at the bottom with the dressing. In this picture I have sliced carrots, bell peppers, onion, tomatoes, and corn (we had corn on the cob left over from dinner).
After all the 'toppings' are placed in the jar I fill the jars the rest of the way with the lettuce. Then just place the lid and store in the fridge.
If you are a crouton eater on your salads then I recommend you not put them in the jar. They will get soft and mushy. My hubby likes to place croutons in a little Tupperware container that will fit easily into his lunch box and he can add them before he eat's his salad.
When you are ready to eat just shake up the jar to mix the dressing and toppings around! Enjoy!