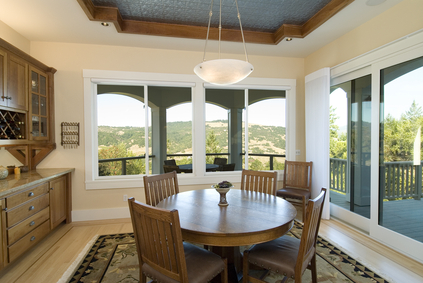 Your dining room is just screaming for a makeover! Eating in the same room year after year and no major (or minor) changes can be boring and out-of-date. Here are some simple tips that are friendly on your wallet and will leave your room looking stunning:
Wall Stencils
Nothing updates your room decor more than giving the wall a fresh coat of paint. But if that's too expensive, opt for a wallpaper stencil instead. You can buy these at any craft store and range from $16 to $30. All you need is some paint that compliments the existing wall color and away you go! It's a pretty painless process, also. Just tape the stencil to the wall, paint the stencil with a very light coating of paint and move the stencil on down, repeating the process until the whole wall (or parts, whatever your design) is covered. Since you're using such a little amount of paint, the walls will be dry in no time.
Lighting
Proper lighting is an essential element if you want to create a dining room that you and your guests will want to sit in for extended periods of time. The easiest way to quickly change the atmosphere of your dining room is with a light dimmer slider control switch, which can be paired with almost any kind of fixture. For romantic nights, dim the lights low. For family gatherings, keep the lights bright. Using a dimmer system allows you to control the vibe of the room with expert precision.
Updating your lighting can quickly change the feel of your dining room. A chandelier can be thought of as the centerpiece of the dining room and you can easily redesign a room by simply changing the chandelier and a few complementary accent pieces. If you're looking for a piece or style to build a new look around, a lighting speciality store like Kichler can help you review dozens of designs quickly. If you're looking for a sophisticated look that doesn't require a chandelier, try a wall sconce instead. Thinking modern? An oblong-shaped lighting fixture can also suit your room perfectly. It's just a matter of digging until you find something that reflects you.
Furniture
Update that dining room table for a charming, barn look. Using old reclaimed wood is a great option for building your own table. You can find old scrap wood at junk yards, old barns or even at the hardware store. Palettes work just as well, too. If you want to change the color of the wood, sand and stain the piece first. Then you can opt to paint the legs a different color like white or aquamarine.
Adding a Pop of Color
One of the easiest ways to update your room is to add some pops of color around in a shade you find calming, serene or energetic: whatever mood you prefer to create for the room. Look for that color in table runners, wall art or decorative knick-knacks that you can place on shelves. Placing the accent color around the whole room will make it feel unified and tie the room together, making it look fresh and fun!
Keep the Drinks Coming
For an eye-catching centerpiece, create your own bar area. Use some furniture you have lying around the house you don't know what to do with or visit some thrift stores or yard sales (you can pick up great pieces of furniture for next to nothing). Designate a corner of the room for this, and adorn the bar area with a few stools, a variety of drinking glasses and your favorite alcohols. Having a working bar will be great for holiday parties.
Michelle Houser – Michelle is a mother of two awesome kids who keep her on her toes and full of great material for kids rooms.