Pinterest Power Review!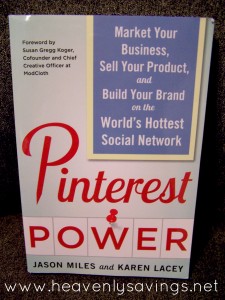 I am so pumped up about Pinterest after reading Pinterest Power by Jason Miles and Karen Lacey!! You are not going to believe all the amazing things you can do with pinterest until you read this book.
Yes, I have to admit I have spent way too many hours at one time pinning and repining and surfing this amazing site. I have gotten countless ideas from baking & cooking, to homeschool projects and organization tips! I know most of you have either gotten enamored by or at least heard of this ever so popular website Pinterest!
Pinterest Power is a book about marketing your business, selling your products, and building your brands but also much more than that. This is a book you are going to need to keep by the side of your laptop while you are trying to help your business grow. Even if you are just starting out with selling some crafts you have made, this will help you beyond words!
Pinterest Power will explain how to pin and repin and advertise for FREE and get your products, your blog, anything you desire to spread the awareness to others in an organized and simple manner. You don't need to sell anything to have this book help you out. I don't sell anything, nor do I have a business of any sort, but I have friends who do and I plan on sharing my insight from this book to them so I can help them out!
There are a lot of us who are involved with non-profit organizations. Do you walk for MS? Do you raise money for St.Jude? Do you gather a team up for Relay for Life? Well my family is involved with March of Dimes which is a non-profit organization that helps in the prevention and education of premature births in the United States. It is close to our heart because both of my children were born premature and we have walked and raised money ever since they were born! Pinterest Power has taught me a new way to help raise for my amazing cause without much effort at all! It's the power of pinning!
Even though I want to share this book with all my friends…I can't give them my copy, they are going to have to purchase their own!! Go to  www.pinterestpower.com and read more about this great guide to pinterest!
~Tammy~