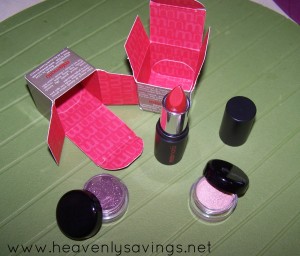 Mia Mariu Review!
My thoughts on Mia Mariu products – Let me begin by stating the fact that I just simply do not own that much make up in my house. It's not that I don't like the stuff or find it time consuming, it's just that I don't seem to ever just purchase makeup for myself, which I want to work on that!
I loved getting some Mia Mariu products to try out because it gave me a chance to go out of my box and try some new things! I have heard of Mia Mariu products and one the things I love the most about them is that they stand behind being all natural! They add vitamins and antioxidants to them such as green tea! To me this is a great reason to stick with this company weather you are vegan or just wanting to put natural ingredients on your skin, Mia Mariu is now a brand I will have in my house!
I was able to try out three great products, one amazing hydrating gloss in Tango, and two beautiful shimmering Loose Mineral Shadow Liners. One was Rosa and one Mora in color which was a deep purple and a light pink in color. Both very beautiful and shimmery. I love shimmery!! (Is that even a word?!)
When you apply the shadow liners be in mind that they go on lighter than the color is in the container of course but I happened to love that and it was a light sparkly effect on my eye lids and just enough to give them a hint of color. I could apply it thicker in the evening for a deeper color but I love that I can make it as light as I want or darker if I would like. You control the application process and what level you want.
Mia Mariu is a Dallas, Texas based company and they have an array of amazing products! Here is yet another amazing fact about this great company, the products are made in the USA. Now you just another reason to get Mia Mariu products in your house!!
~Tammy~
** I was sent a copy of this product for the purpose of this review. However, my own opinion was used and not influenced in any way.