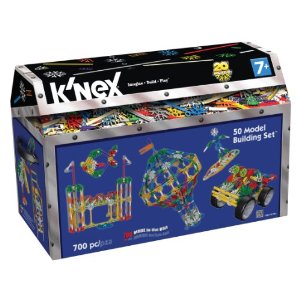 My Thoughts on K'NEX 50 Model Building Set
K'NEX is one of my top favorite toys ever! I remember when I was a kid my brothers and I could spend hours building model after model. Now that my daughter is finally of age to play with K'NEX and really enjoy them we have been getting them out more and more often. It is fun to sit on the floor with her and build entire K'NEX villages or castles and carnivals. The possibilities are endless.
Recently I was sent the K'NEX 50 Model Building Set for the purpose of this review. The model set comes with instructions to build so many fun things that kids love like a surfer, 4-wheeler, fish, duck, airplane and more! The kit is for ages 7+ and has easy to understand instructions plus everything you need to make kit after kit. I love all the bright colors of the K'NEXpieces and the hours of imaginative fun! There are 700 pieces in this K'NEX 50 Model Building Set so just imagine all the fun!
K'NEX can be purchased at many local retailers as well as online!
K'NEX not only makes amazing toys for the kids but they are also committed to making their toys the Green Way and they are made right here in the USA! How wonderful!
**I was sent a product for the purpose of this review. However, my own opinion was used and not influenced in any way.