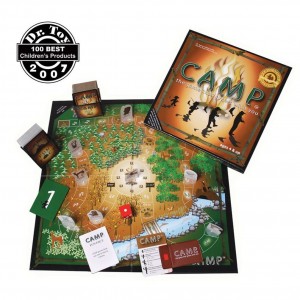 My Thoughts on CAMP Board Game
I come from an outdoorsy family and we love to get together and play board games! The CAMP Board Game is the perfect game to keep the outdoors in our life throughout the winter months when we don't get to the mountains as often as we would like.
In the CAMP Board Game you can choose 1 of 4 levels of questions to ask each person depending on their knowledge. This is a game that really is perfect for the whole family because no matter your age you can be challenged to learn more new and interesting facts. For example my 7 year old daughter might get a question like ' What is the color of a male cardinal' and have multiple choice answers to choose from. That question might be a little easy for me or my husband so on the same card we might get a higher level question asked to us like 'How many states have the cardinal as the state bird?' Now that might be a little more challenging!
I love that the game is not only fun for the whole family but also that there is a lot of great knowledge that you can learn from playing. It is a great way to create fun memories and bond with my family but also learn about the world around us.
The CAMP Board Game is made for 2-8 players and has 4 different levels of questions depending on your knowledge. It contains 1 game board, 199 game cards, 400 questions and 99 fun facts, 1 decoder, 8 game characters, 1 die, 16 level cards and a compass card. Recommended age level for this game is 4+!
** I was sent a CAMP game for the purpose of this review. However, my own opinion was used and not influenced in any way.