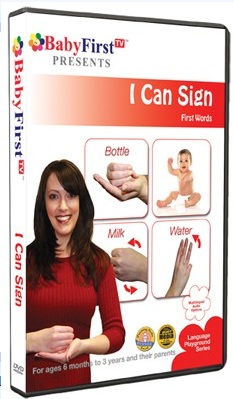 My Thoughts on BabyFirstTV Presents
I Can Sign First Words
When my daughter was born I knew that I wanted to do everything in my power to give her the best start possible. This meant that I wanted to make sure to feed her little brain with as much knowledge that she could handle for her age.
One of the things I practiced with her as an infant was sign language. I was amazed at how quickly she picked it up and how well she remembered each sign. As a toddler she continued to use the signs for things that she could not find the right words for. It was wonderful.
Recently I was sent a copy of BabyFirstTV Presents 'I Can Sign First Words' for the purpose of this review. I was excited to see what words there were and how they presented the sign language to the children.
I Can Sign First Words was created for ages 6 months to 3 years and they will learn words such as baby, drink, water, bottle, etc….Each word is taught in a way that will have your children learning and mimicking the hand movements in no time. Imagine knowing what your child is crying for as soon as they begin to whimper. If your child wants a bottle they will be able to tell you even before they can say the word! Amazing!
I love the concept of BabyFirstTV. It is brilliant to have a channel that is dedicated to education for baby's. The channel runs 24 hours a day, 7 days a week and is based around education that is for infants and toddlers!
BabyFirstTV categories include Thinking Journey, Numbers Parade, Language Playground, Imagination Lane, Sensory Wonderland, Rainbow Dreams and Feelings Garden.
Want to add to the fun? BabyFirst web site is free and has numerous fun activities for your toddlers. It is a great place to help them learn and it's all Free! Enjoy!
**I was sent a copy of this title for the purpose of this review. However, my own opinion was used and was not influenced in any way.