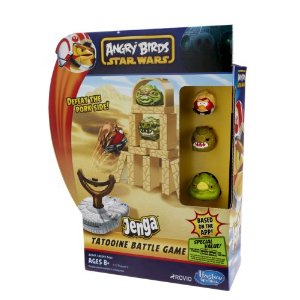 My Thoughts on Angry Birds Star Wars
Hasbro, Angry Birds and Star Wars have teamed up to bring you one of the most popular apps of all time….but this time it is not an app! Nope…It's a real game that you can set up and use your 3 little Star Wars birds to destroy the pigs in the tower you built.
Angry Birds Star Wars Hasbro game is based off the app and is created for ages 8+. You can play with 1 or 2 players and the contents include a Luke Skywalker Bird, Jabba the Hutt Pig, Rancor Pig, Millennium Falcon Launcher, 12 plastic Jenga Blocks, 2 Dice, Label Sheet and Game Guide.
The kids have a blast playing the Angry Birds game. They have fun setting the Jenga piece's in different patterns and knocking it over with their Luke Skywalker bird! Plus I like having my Kindle back as that was what they used to play Angry Birds before this amazing Hasbro Game!
As if you need another bonus for purchasing this game….but each box contains special codes that can be used in the Angry Birds Star Wars App to unlock new and great things! Enjoy!
** I was provided with a Angry Birds Star Wars Hasbro game for the purpose of this review. However, my own opinion was used and not influenced in any way.