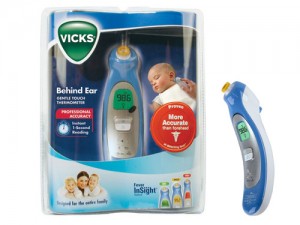 My Thoughts on Vicks Behind Ear Thermometer
It's that time of year again. Cold and Flu season! It is such a horrible feeling to see your little ones sick. It breaks my heart  to see my daughter so down and the last thing I ever want to do is wake her up once she is finally sleeping. That is why I think it is important to use a thermometer that she won't even notice.
The Vicks Behind Ear Thermometer is easy to us and read. The screen will light up green behind the temperature to let you know that their body temperature is okay and you have nothing to worry about. If there is a fever then the light behind the temperature will change to yellow for a mild fever and red for a high fever. This will help you to take the guessing game out of "How high should I let a fever get before I get concerned."
Another feature about the Vicks Behind Ear Thermometer that I love is how quickly I can take a second temperature after the first. With many thermometers you have to wait for them to cool all the way down before taking another child's temp. But with the Vicks Behind Ear Thermometer you will not have to play the guessing game as to when it will give you an accurate reading with a second person. There is a timer that will count down about 10 seconds after the first temp is taken. As soon as the timer counts down you can take a second temperature and still have it be accurate! It's just that easy!
This Vicks Behind Ear Thermometer really has made a difference in my life. It is so easy to take a temp and there is no worry about having a thermometer in each of the kids mouth or worries about having to wake up a sleeping child to take their temp. It's great and very accurate. I have not had any issues with it and the Vicks Behind Ear Thermometer is very simple and easy to use!
The Vicks Behind Ear Thermometer is clinically proven to take an accurate temperature in less then 1-second.
UPDATE- Well it happened. My daughter got this terrible flu that has been going around and with it came a fever for 4 days. It was between 101-103 and I was excited to be able to take her temperature quick and easy with this behind the ear thermometer….BUT unfortunately it NEVER showed a fever at all. It kept telling me that she had a "normal" temperature although two other thermometers said she had a fever. That is sad as I was very excited for this thermometer and I really wanted it to work but alas it did not and I trashed it. 
** I was sent a product for the purpose of my review. However, my own opinion was used and not influenced in any way.