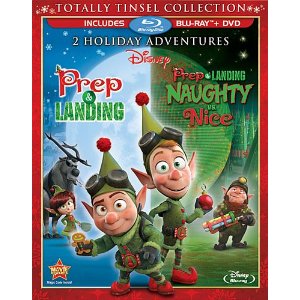 My Thoughts on Prep & Landing
AND Prep & Landing Naughty vs. Nice
Last year before Christmas I was able to review Prep & Landing. My family loved watching the little elves and their fun-loving antics. This year I was excited to see the new addition to the Prep & Landing adventure! Naughty vs. Nice is a story about two brothers who you would never think were even related! But, they are and together they will work to save Christmas!
Prep & Landing and Prep & Landing Naughty vs. Nice are both 23 minutes long for a total of 46 minutes of wholesome Christmas fun! Disney has done it again with yet another great Christmas story! Enjoy!
On the Back
Prep & Landing– On Christmas Eve, a high-tech team of elves from an elite unit known as 'Prep & Landing' ensures homes around the world are prepared for Santa's visit. But when two hilarious little elves face unexpected challenges and are pushed to their limits, it'll take a great big effort to save the season. Enjoy a heartwarming holiday classic sure to make everyone's Christmas list!
Prep & Landing Naughty vs. Nice – The outrageous yuletide adventures of Christmas elves Lanny and Wayne continue in this totally tinsel adventure that reminds us there's room for everyone on the 'nice' list. Santa's stealthiest little elves must race to recover classified North Pole technology, which has fallen into the hands of a computer-hacking naughty kid, in an effort to stop Christmas from descending into chaos! Bring the family together for a comical adventure that puts the Ho, Ho, Ho in your holidays!
** I received a copy of this title for the purpose of this review. However, my own opinion was used and not influenced in any way.