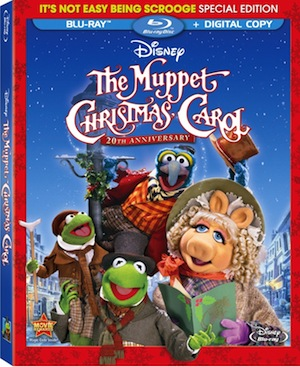 My Thoughts on The Muppet Christmas Carol
My daughter who is in 2nd grade came home a few weeks ago excited because she was going to be in her first ever play. She get's to be Scrooge in The Christmas Carol at school. She had never before heard of The Christmas Carol and I was excited to let her see it for the first time…..played out by The Muppet's of course!
The Muppet's are something very special at our house. My daughter loves going to The Muppet show in Disney Land and to be honest when I seen that show for the first time a few years ago it was one of my first ever experiences with The Muppets. I feel in love with the great characters and ever since I have went out of my way to watch Gonzo, Miss Piggy and Kermit the Frog!
On The Back
Greetings, holiday movie fans and culture lovers, I am the Great Gonzo…or as I am better known to fans of this classic motion picture – literary legend Charles Dickens. Ready to laugh, cry, sing, frolic, cavort and enjoy yourself beyond belief!? Well, you're in luck, because this 20th Anniversary Edition of Disney's The Muppet Christmas Carol is guaranteed to put you in a holiday spirit that will stay with you forever – or at least until your Aunt Ruth starts complaining that nobody is eating the fruitcake she brought…again!
Available for the first time ever on Blu-ray with high definition sound and picture, so you can enjoy even more of my blue-ness, not to mention the incredible spectacle of Kermit the Frog as Bob Cratchit, Miss Piggy as Emily Cratchit, Academy Award winner Michael Caine (Best Supporting Actor, 1999, The Cider House Rules) as Scrooge, wonderful songs by Academy Award winner Paul Williams (Best Original Song, 1976, "Evergreen," from A Star Is Born), and, of course, my pal Rizzo the Rat as…well, Rizzo the Rat.
A heartwarming and hilarious holiday classic, told as never before by yours truly! Yule love it! Happy Holidays!
– The Great Gonzo!