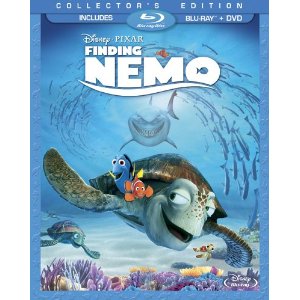 My Thoughts on Finding Nemo!
Finding Nemo is one of my favorite Disney Movies. Recently Disney Pixar released Finding Nemo on DVD & Blu-Ray! In Finding Nemo you will watch a little clown fish try to explore the world around him and be a kid. But will he be able to grow and learn with his over protective father around?
Nemo's Father Marlin finally agrees to let Nemo go to school and Nemo see's his chance to be a kid. During his first day in class his father shows up and things take a tragic turn as Nemo is taken by an unknown masked person. Marlin (Nemo's Dad) freaks out just as any parent would and soon makes a desperate attempt to find his missing son!
Will Marlin find Nemo?
On the Back
Sea it like never before! For the first time ever, through the magic of Blu-Ray, fully immerse yourself in the stunning underwater world of Disney*Pixar's Finding Nemo! From the creators of Toy Story and Monsters, Inc., this critically acclaimed and heartwarming tale splashes off the screen with brilliant digital picture, high definition sound and breathtaking bonus features that transport you beyond your imagination.
In the depths of the Great Barrier Reef, Marlin (Albert Brooks), an overly protective clownfish embarks on a daring rescure mission when his beloved son, Nemo, gets scooped up by a diver. With his unforgettable friend Dory (Ellen DeGeneres) by his side, Marlin encounters an ocean full of memorable comedic characters on his momentous journey – to find Nemo.
Bring home the humor and heartfelt emotion of the epic adventure that captured the Academy for "Best Animated Feature Film" (2003) – now more awesome than ever on Disney Blu-ray!
 ** I received a copy of this title for the purpose of this review. However, my own opinion was used and not influenced in any way!