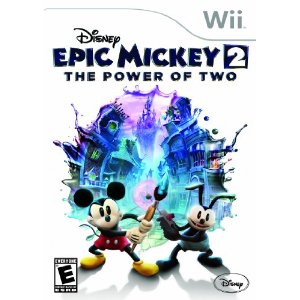 My Thoughts on Epic Mickey 2 The Power of Two
I have said this before and I will say it again….Epic Mickey is the most fun game EVER! I was SO excited when I heard that Epic Mickey was going to make a 2nd game!
The first time I turned on Epic Mickey I was surprised at the difficulty and graphics of this game. I usually don't like to play games that go along with cartoons or movies since they seem to be so simple and easy. But that is  NOT the case with these awesome Epic Mickey games!
In Epic Mickey 2 takes place in Wasteland just like the first one does. You will have fun using your paint and thinner to help save your beloved land. You will also get to interact with Disney Characters from the early years of Disney! I also love that you can trade pins in this fun Epic Mickey game which is something my family and I love to do at DisneyLand!
Disney's Epic Mickey 2 The Power of Two is really an awesome game. Even my husband can't wait to get home to play it. He loves the challenge and the great interaction! If you have a gamer in your home who loves to play then I recommend you check into Epic Mickey 2 The Power of Two!
From Press Release:
November 20, 2012 – Disney Interactive today announced that the full version of the highly-anticipated "Disney Epic Mickey 2: The Power of Two" video game is now available for download on the PlayStation®Network for the PlayStation®3 computer entertainment system in North America.
The "Disney Epic Mickey 2: The Power of Two" video game returns Mickey Mouse and Oswald the Lucky Rabbit to Wasteland, an alternate world filled with more than 80 years of forgotten Disney characters and theme park attractions.  But for the first time, Mickey and Oswald will join forces as true partners – Mickey with the magical paint brush that allows him to wield paint and thinner, and Oswald with a powerful remote control that allows him to command electricity.   This new co-op play further enhances the idea that "PlayStyle Matters" – a unique approach to gameplay pioneered by Warren Spector where players tackle challenges the way they want to in order to explore a variety of possibilities and storylines, but always with consequences for their chosen actions.