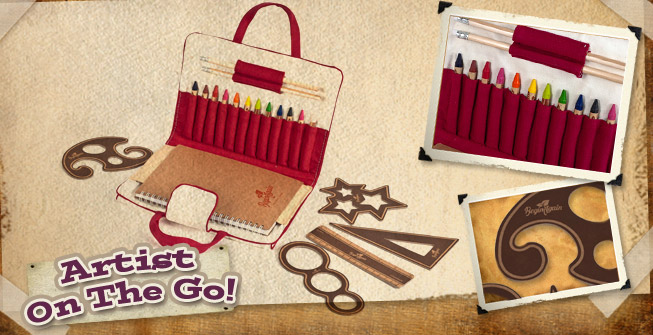 My Thoughts on Artist on The Go!
My daughter is a little artist. She loves anything to do with art and even gets special time in her school classes to do art work as long as her homework is done.
Artist on The Go is a great way to keep your little artist organized even while you travel! The Artist on The Go Kit contains a cotton carry case with a crayon holder, pencil holders and pockets. There is even a 6″x 9″ recycled paper notepad, wooden pencil's, pencil sharpener and drawing stencils!
This kit is really neat and creative. It will be the perfect addition to any road trip or while we are waiting for a meal at a restaurant. I love how environmentally friendly the kit is. It is also a great size for the little ones to carry and manage.
The Artist on The Go kit is not the only thing sold by BeginAgain toys. Everything on the site is environmentally friendly. No matter if your child is a little artist like mine or a writer, inventor, sportster, a hero or a little beginner BeginAgain has great toys for your young ones!
Some of the other items I love are BeginAgain's Treasure Hunt Objects and Shapes Game, Push Toys, Lemonade Set and Bath Toys!
BeginAgain is a site that is dedicated to imaginative play. They do not believe in electronic toys and none of their items take batteries! It is a win, win for everyone in your family….and the planet too!
How would you like to win an awesome BeginAgain Artist on The Go kit for your young one? Here is your chance! Use the Rafflecopter below to enter to win your's today! This giveaway is open to US only! Good Luck!