Musco Family Olive Co. Review!
My thoughts on Musco Family Olive Co. Olives – "Ol-ive you" is something we say in our household as a silly joke…you are saying Olive you but it sounds like I love you. Ok it doesn't take much to amuse us. At any rate, when I received these olives my imagination starting running wild on something unique to do with them. I mean don't get me wrong, when I open a can of olives they are on 20 little fingers lickiety split…but I wanted to do something that we could actually enjoy a little longer than just quickly slurping them off your fingers.
The Musco Family Olive Co. has two amazing products. The first are their large reduced salt black olive. Olives are a healthier snack than other foods and we shouldn't just crack open the can only on holidays. They are delicious all year round and to show you something fun with these olives, I made little penguins out of them! Boy, were my kids glad they refrained from sticking them on their fingers! I used cream cheese and carrots to complete the penguins and these olives were a hit! Not only do these olives have 25% less sodium than others, they are low in fat and calories as well!
The second product we tried was the pearl, fresh cured green ripe medium olive. Now this is NOT your typical green olive. I promise it tastes NOTHING like what you think green olives taste like in the jar with pimentos. These have a light flavor that is very similar to a black olive. My son cannot stand the typical green olive but these he gobbled up quickly! They are delicious and if you like olives you need to try these! I incorporated these wonderfully unique olives in some cream cheese and wrapped them with roast beef. They are a great little appetizer for any occasion!
To the Musco Family Olive Co., "Olive you!"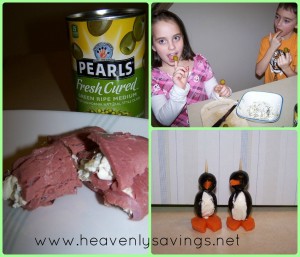 ~Tammy~
** I was sent a copy of this product for the purpose of this review. However, my own opinion was used and not influenced in any way