The Nutcracker in 3D Review!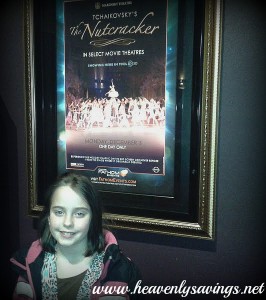 My thoughts on The Nutcracker in 3D – I was so excited to be able to take my 9 year old daughter to this amazing event! I never would have thought that something so magical such as Tchaikovsky's beautiful and elegant ballet, The Nutcracker would ever be in 3D and in a movie theater!!
We sat in the very back row with our 3D glasses on and we had the best seats in the house! Everything was amazing in 3D….it didn't matter where we sat actually because it was all right there and beautifully done. Had we been at that actual play, we would have missed so much of the detail!
Being in 3D allowed us to see every single sparkle and move which was spectacular! The facial expressions were priceless and to see the ballerinas up close was something I had never seen before. Oh sure, I have seen The Nutcracker play before in person but this was by far the best experience I have had with this play. We were able to see the orchestra, the conductor, and the dancers up close and hear everything so well. It was absolutely amazing!
I watched my daughter's face light up underneath her adorable little 3D glasses as she watched the ever so famous "Dance of the Sugar Plum Fairy" and I know she will be dreaming of being a ballet dancer tonight!
This play was done by the Mariinsky Ballet at the Mariinsky Theatre in St. Petersburg, where the original Nutcracker first made its debut 120 years ago in 1892! I feel so lucky to have been able to see this performance and to see how talented each and every single dancer was. To see them twirl with such grace was so peaceful and to be able to share it with my daughter made it that much better. She understood what was going on and when she realized that it was all Clara's dream she just smiled and I knew right there that she was going to have an amazing dream tonight!
The Mariinsky Ballet did a beautiful job and I would love to own this so I can play it every single holiday, and I would definitely go and see it again in the theater and so would my daughter!
~Tammy~
** I was sent a copy of this product for the purpose of this review. However, my own opinion was used and not influenced in any way.